In the spirit of Heritage Month, there's something else that's close to our hearts that we'd like to honour – the proud heritage of our very own South African gem, BET Software. We recently chatted with Michael Collins, our General Manager, about the incredible journey and triumphs of BET Software over the years. And here's what he had to say:
Q: What inspired the founding of BET Software as a start-up company, and how has that initial vision evolved over the years?
A: The inspiration behind BET Software becoming its own software company started like all other start-ups, where there was a need to be able to create differentiation and disrupt the betting market that software was required for. We probably were way overconfident in our abilities but that is needed to start to go after what seems the most unlikely. Over the years we have pushed that vision to ensure that the add-ons, the value adds that we create continue to make sure our software is an outlier in the market.
Q: Could you share some key milestones from BET Software's early days that played a significant role in shaping the company's identity and culture?
A: There were a lot of learnings in the early years, and it came down to us realising that the designs that we put in place had to be continually adapted for a growing market. What shaped us was that the team was small, dedicated to making sure that this software was a success, and our realisation that we needed to be learning all the time. We were everything from software support, business analysts to project managers and hard-core developers; and that allowed us to create a culture of collaboration.
Q: What were some of the challenges and breakthrough moments that BET Software experienced during its start-up phase, and how did they contribute to the company's growth?
A: Some of our biggest challenges came when we realised the extent of our experience didn't match our ambition. We did however not shy away from that fact that we were lucky to be able to, through connections made at various conferences, call on industry experts that were willing to guide us and showed us how to take that steps to become a company that built a system that can handle massive transactional volume. Breakthroughs tend to happen in times of crisis which creates laser focus, and, in these times, we did our best work. We also knew we had to grow BET Software into a company where we could spread the knowledge we had gained into an ever-growing team.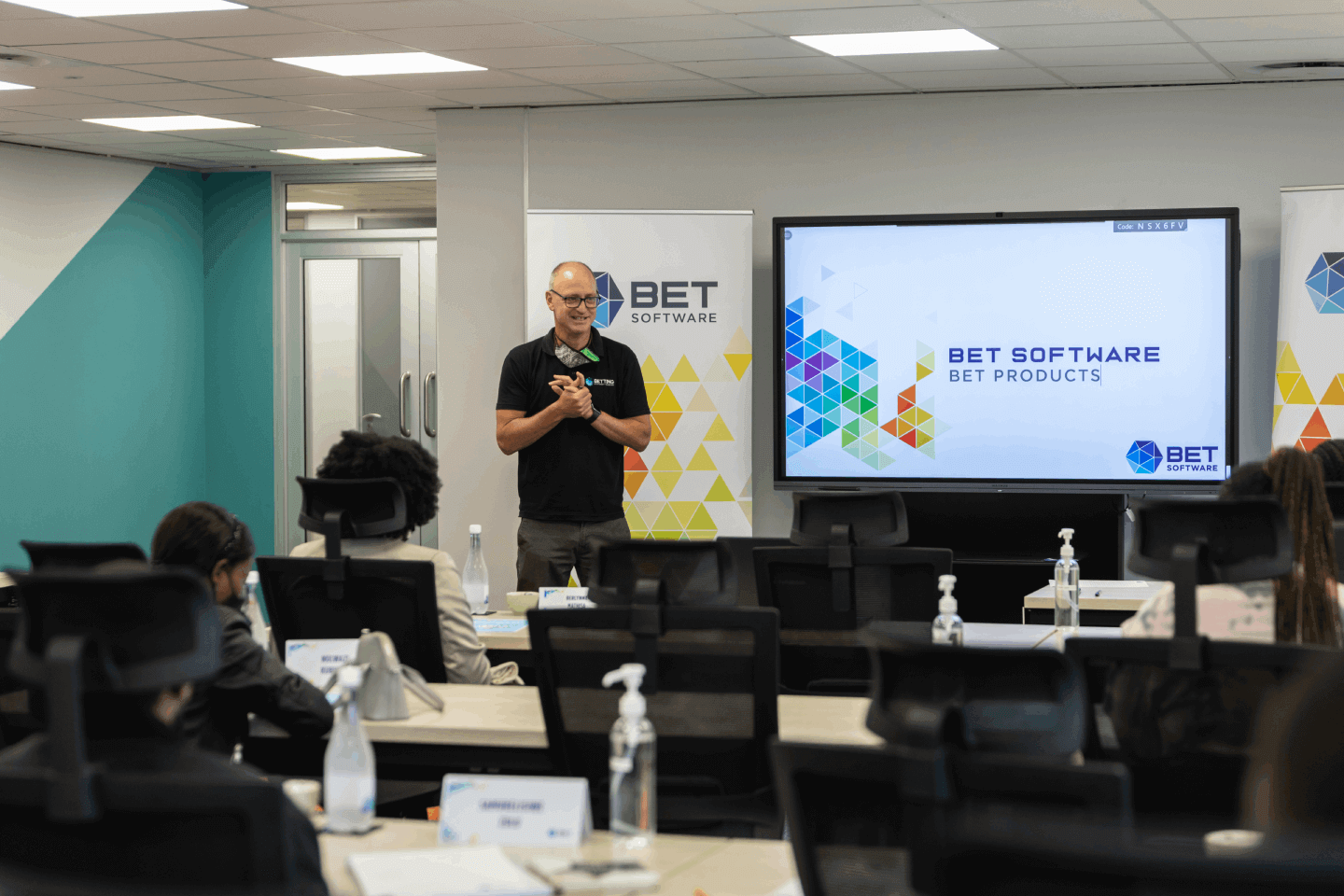 Q: How has BET Software's approach to innovation and technology adapted as the company transitioned from a start-up to an established player in the industry?
A: We have always known that we need to keep pushing the boundaries of what our system can do and through our own growth, we've hit the glass ceilings that our code created. We have always looked at the technologies that best suit our needs in both the short term and the long term; and in the way we have grown, we look at companies like Facebook, Google, and LinkedIn to see how they solved some of their technical problems. Through this, our aim has always been stability and to offer excellent service and we feel like this is something that we are achieving.
Q: Looking back, what aspects of BET Software's start-up heritage do you believe have had the most lasting impact on the company's success and ability to adapt in a dynamic tech landscape?
A: One of the cultural aspects of our company that has been brought through from the start is the fact that we've always had people that felt a deep level of ownership and wanted to succeed both personally, but also see the systems they created grow, and be part of the success. Friendships born in the line of fire as it were. The ownership that we had created was something that we fostered early on and we can see the passion within the developers now when they realised the extent of the solutions they're working on.
Q: Are there any fun memorable moments from the early days of SyX or BET that you'd like to share with us?
A: I still think some of our most memorable moments were created when we knew that Friday nights were our busiest times. The system would go dangerously close to falling over so with the 10 of us that were in the office there were always beers available on a Friday afternoon. That meant the team were always willing to jump in and fix any issues that we were having at that time.
One of the funniest moments was when the system had an issue, and the Betting Support Centre called me to fix it, but we were all going to Greyville to watch horse racing. They had asked me to lead a horse in if it won, which it did. We managed to get the system up and I got to go to Greyville to lead the horse in and be interviewed on television 20 minutes later, much to the surprise of the Betting Support Centre, who were watching it on TV.